Hang Mua or Mua (Dance) Cave is located in the core zone of Trang An Landscape Complex, in Khe Dau Ha Village, Ninh Xuan Commune, Hoa Lu District, Ninh Binh Province; about 10km from Ninh Binh City, over 90km from Ha Noi Capital. In recent years, Hang Mua attracts many visitors by the beautiful scenery of the mountains and rivers with extremely interesting discovery experiences.
Hang Mua (Mua Cave) lies at the foot of Mua Mountain. The name is derived from folk story. Legend has it that in the past, when King Tran Thai Tong (13th century) returned to Hoa Lu to establish Am Thai Vi (a small temple), he often came to this cave at the foot of this mountain to enjoy singing and dancing by the fine concubines, so since then people call it Hang Mua (Dance Cave).
Hang Mua has typical geological and geomorphologic characteristics of limestone mountains dating back to millions of years. This region contains the boundless mountain ranges surrounding the plain. Hang Mua has the shape of a large upside-down bell with the area of about 800m².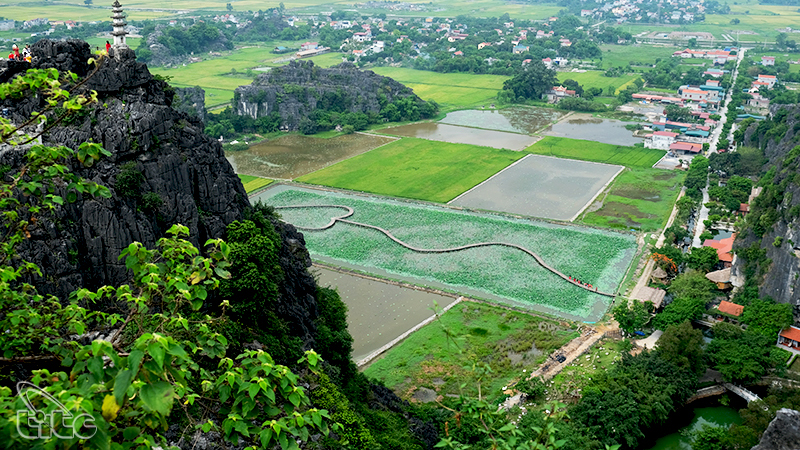 Located in the center of the tourist site is a large artificial lake, flanked by rows of green trees shady, which creates an extremely airy space.
To be able to explore and admire the scenery in the Hang Mua area, visitors have to conquer 486 stone steps leading to the top of the mountain. From afar, the steps connected together like the miniature Great Wall. The two sides of the steps have ornate lines on the stone with the shapes of dragon or phoenix carved very sharply and beautifully in the art style of the Tran Dynasty.
As soon as you arrive at the top of the mountain, you will surely feel overwhelmed by a vast forest and mountain space. Standing here, you can admire the poetic scenery of Tam Coc – Bich Dong with lyrical mountains, boats up and down on the Ngo Dong River, all creating a harmonious and vivid picture.
On the top of the mountain, there is a statue of Kwan Yin Buddha overlooking the peaceful ancient capital of Hoa Lu. Behind the statue, there is a dragon statue. A small tower built in a Buddhist stupa architecture is located at the highest point of the mountain. This is a ideal place for taking super beautiful photos so that many visitors have to line up to be photographed here every time in high season.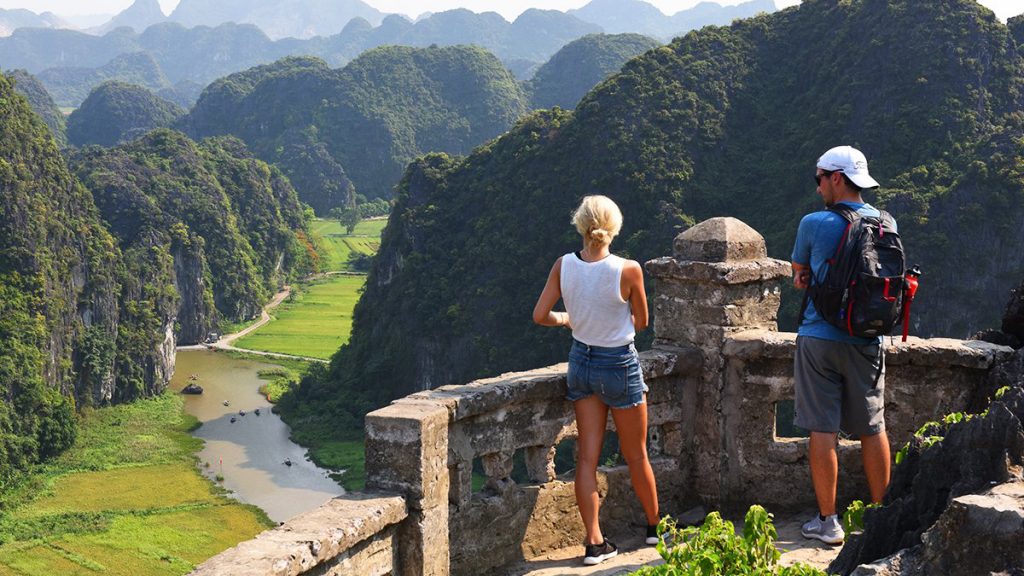 Hang Mua lures visitors throughout the year, each season is a beautiful natural picture with its own colors.
During the cold spring days, Hang Mua looks a taciturn beauty which is enough to make visitors fall in love. While the summertime in May and June is the season for rice fields to ripen. At that time, the whole area is distinguished by the golden color outstanding among the green of mountain ranges.
Hang Mua becomes an ecotourism destination combining sports and mountain climbing in Ninh Binh Province. This tourist destination attracts a lot of domestic and foreigner visitors, famous travel bloggers and youtubers…
Trang An Landscape Complex has recognized by UNESCO as a World Natural and Cultural Heritage since June 2014.In 2018, Hang Mua was listed in the top 5 destinations in Ninh Binh on the TripAdvisor website.Currently, the area of Hang Mua and Tam Coc has many beautiful and comfortable resorts, homestays at affordable prices, from budget to luxury.From Hanoi, visitors take about 1 hour 45 minutes to 2 hours by car or motorbike to reach Hang Mua. Besides, to experience more in the trip, visitors can explore other attractive and unique destinations of Ninh Binh such as Trang An Landscape – Bai Dinh Pagoda, Tam Coc – Bich Dong, Thung Nham Bird Garden, Van Long Wetland Nature Reserve…
TITC